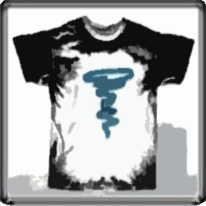 The Tulsa Tees Brain Trust is a graphic design outfit with an eclectic collection of funny, geek, holiday, abstract, and (some) political designs available on a wide variety of products. Many of our designs — created through the magic of coffee, PBJ, and sleep deprivation — are available through more than one printer, since their gear includes different styles and pricing — and this gives you a whole lot more options to find the right gift!
Our products are sold under three brands — Tulsa Tees (a smorgasbord), Deep Flux (abstract digital art), and Me Time (a hobby-themed upstart) — at various printers. Click the store links below to go see EVERYthing.
Our stuff at ZAZZLE >>> TulsaTees – DeepFlux – MeTime
Zazzle's interface provides many customization options to the shopper.
Our stuff at CafePress >>> TulsaTees – DeepFlux
One of the most popular print-on-demand sites, CafePress is where TulsaTees got its start. (Note: There's a lot more Deep Flux designs at our Zazzle store.)
Our stuff at Society6 >>> DeepFlux
The perfect place for the abstract ruminations on light and texture that define Deep Flux designs, Society6 is geared towards art prints and products with bleed-edge printing.
Our stuff at Customized Girl >>> DeepFlux – TulsaTees
Not just for girls, Customized Girl allows you to customize and swap designs from one product to any other product. Click through and have fun.